It's pretty amazing what happens away from the action at a state tournament. Once the games are played and the reaction begins, some pretty neat things develop.
Case in point was a tremendous photographed issued via Twitter on Saturday afternoon by Reid Olson, the athletic director at Lyle High School. Lyle and Austin Pacelli have a cooperative girls basketball team, and the Athletics made history by getting to state for the very first time. They played three games in three days, finished fourth in Class 1A and were a worn-out bunch by the time it was all over.
The photo Tweeted by Olson showed the interior of a school bus with very few heads visible. You see one girl holding the fourth-place trophy on her lap and most everybody else is down for the count, sleeping on the ride home where the team would be welcomed by both school communities.
Another photo was issued from the Twitter account of the Norman County Fair. Ada-Borup is in Norman County, and those who have been there (as I have) know that the county fairgrounds are right across the road from the school.
Ada-Borup won the Class 1A state title with an 82-65 win over Maranatha Christian at Williams Arena, giving the Cougars a 32-0 record and the honor of being the only undefeated girls or boys basketball team in Minnesota this season.
The photo was of the sign outside the fairgrounds, reading "Congratulations Lady Cougars/ State Champs 32-0/The Fun Never Ends."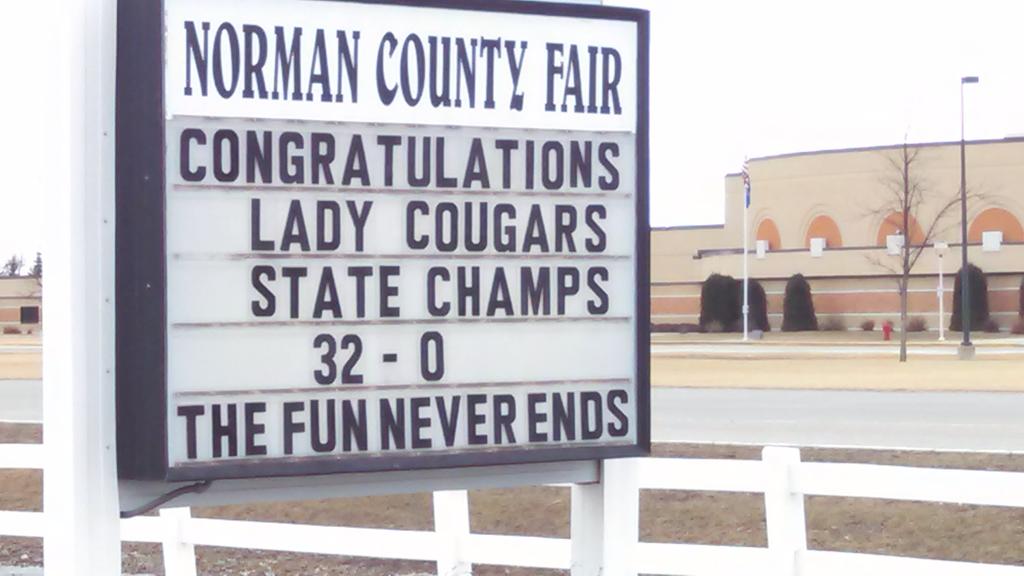 A welcome home celebration was also held in Ada on Saturday night, and you can be sure there will be some basketball players having their picture taken with that sign.
And the cutest photo in the Twitter/state tournament category was of a one-day-old little girl. I wrote yesterday about Ada-Borup coach David Smart becoming a grandfather a few hours before the state semifinals, and how he had jokingly wanted the baby to be named "Swish."
I don't know who took the photo, but it was Tweeted by Ada-Borup athletic director Kelly Anderson, showing the baby wearing a knit cap that looked like a basketball and this caption: "Baby Swish is peacefully sleeping after Grandpa Smart's Cougars captured the trophy!"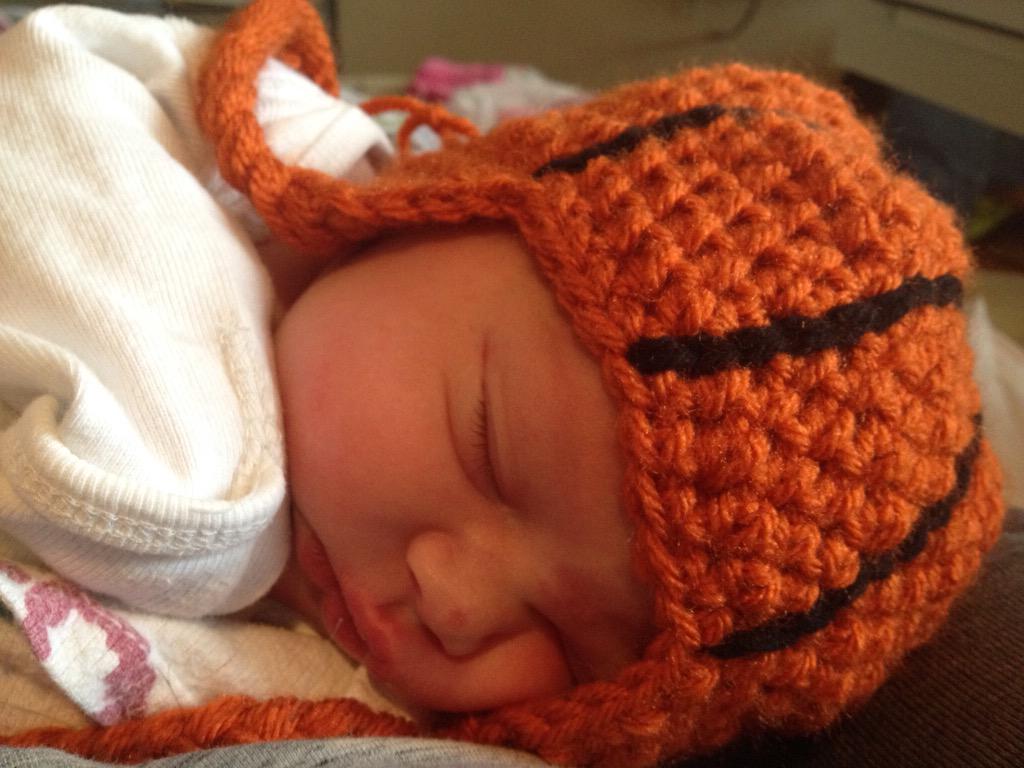 CLASS 1A: ADA-BORUP 82, MARANATHA CHRISTIAN 65
The Cougars won their third girls basketball championship behind a balanced offensive attack and a strong defense. Miki Lee scored 22 points, Elizabeth Birkemeyer had 20, Lexi Merkens 17 and Haley Poehler 10. Maranatha's Lexi Lee scored 32 points, the highest total in the tournament.
CLASS 2A: DOVER-EYOTA 71, SAUK CENTRE 58
The Eagles won their first state title in their first trip to state and broke two tournament rebounding records. They set a new single-game record with 71 rebounds Saturday, breaking the mark of 67 set by Archbishop Brady in a 1979 game against Redwood Falls. Dover-Eyota also set a three-game tournament record with 171 rebounds, breaking the mark of 156 set by St. Paul Central in 2007.
Trailing 55-51 with 5:44 left, the Eagles outscored the Mainstreeters 20-3 down the stretch. Brandi Blattner led Dover-Eyota with 25 points, Megan Hintz had 24 and Madison Nelson 15. Sauk Centre's Maesyn Thiesen scored 23 and Mauren Thiesen had 14.
CLASS 3A: PARK CENTER 52, MARSHALL 45
The Pirated defeated the Tigers in the championship game for the second year in a row, not needing three overtimes as in last year's contest.
Mikayla Hayes led the Pirates with 13 points while Hannah Schaub and Feyisayo Ayobamidele each scored 11. Marshall's Marah Mulso scored 15 points, and Sarah Buysse and Morgan Saugstad scored 10 points each.
CLASS 4A: HOPKINS 68, EASTVIEW 60
The Royals closed a 30-1 season by beating the defending state champion Lightning. Nia Hollie led the way with 26 points for Hopkins, TT Starks had 16 and Ashley Bates 15. Eastview was led by Madison Guebert with 19 points, Samantha Trammel with 12 and Erika Schlosser with 11.
ALL-TOURNAMENT TEAMS
Class 1A/ Brooke Walter, Sarah Holtz, Lyle/Austin Pacelli; Emily Stienessen, Taylor Reiss, Minneota; Alaina Jarnot, Lexi Lee, Jaclyn Jarnot, Maranatha Christian; Haley Poehler, Miki Lee, Lexi Merkens, Ada-Borup.
Class 2A/ Kiley Borowicz, Kacie Borowicz, Roseau; Sarah Kaminski, Gracia Gilreath, Minnehaha Academy; Madison Nelson, Brandi Blattner, Megan Hintz, Dover-Eyota; Madison Moritz, Mauren Thiesen, Maesyn Thiesen, Sauk Centre.
Class 3A/ Kristin Scott, Kasson-Mantorville; Rachel Heussner, Meghan Mandel, Orono; Sarah Buysse, Morgan Saugstad, Marah Mulso, Marshall; Mikayla Hayes, Hannah Schaub, Ann Simonet, Feyisayo Ayobamidele, Park Center.
Class 4A/ Taylor Koenen, Shakopee; Bobbi Brendefur, St. Michael-Albertville; TT Starks, Nia Hollie, Ashley Bates, Viria Livingston, Hopkins; Madison Guebert, Samantha Trammel, Rachel Ranke, Hana Metoxen, Eastview.
BY THE NUMBERS
*Schools/teams John has seen/visited: 458
*Miles John has driven in the Toyota Camry in 2014-15: 8,309